GBR4U - Local PE Business Referrals 4 U
Business Referrals; Word-of-Mouth Business Referrals; Business Networking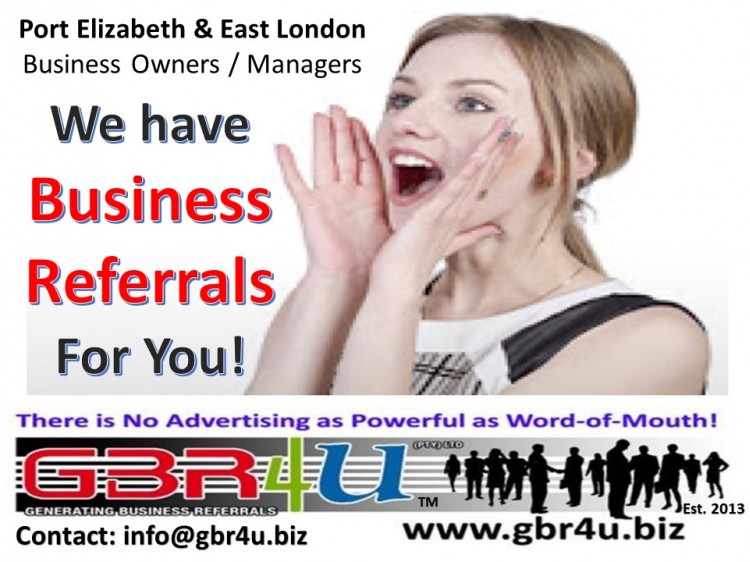 Products and Services Offered
Due to the Growth of Pioneer 5 in Port Elizabeth, the need for a second Pioneer group was identified. Be part of this exciting growth in Port Elizabeth where you and your business can benefit from Local Business Referrals!
GBR4U is an acronym for Generating Business Referrals for You.
Registered as a South African Company, based in the Eastern Cape, South Africa with a footprint in Port Elizabeth and East London.
We are a Business Referral Networking Group with our logo being: "We Help Grow Your Business" with Valuable Business Referrals.
Being Locally Based makes us affordable and firmly believing in "Local Is Lekker!"
We only allow one business occupation class within each of our business groups so that there are no business competition within each business group.
GBR4U believes in building lasting business relations with our business members that range from Attorneys to Electricians, Estate Agents, Plumbers, Financial Services, and many more!
Contact us for more information regarding business membership with an obligation free visit to experience GBR4U personally.
Biography
Virtual Business Malls:
Each Pioneer Group can be compared to a unique Virtual Business Mall. Browse through our Virtual Business Malls and find the exciting goods and services available to you from our various Pioneer Business Members.
Remember, Only one of each occupation class may be represented in each Pioneer Virtual Business Mall. This gives our members Exclusivity in each Pioneer Group without worrying about competitors.
Please feel free to pop in and visit us, you will be most Welcome!
Invitation to Attend a GBR4U Business Referral Meeting
Please complete our Quick Contact Form under the "Contact Us" tab to receive an invitation to one of our Pioneer Business Referral Groups. Should you want to attend a specific Pioneer Group, please indicate it in the "Your Message" section, and please include your primary occupation as well. We will shortly be in contact with you to extend an invitation to attend one of our Business Referral meetings.
We will expect you to make an informed decision once you have experienced our non-obligatory business get together on the day as follows:
No, this is not for me.

Yes, I like the business plan but want to visit again before I finally make up my mind. You are most welcome to visit us again. In fact, you may visit any other Pioneer Group within a 35km range as well. You are allowed to have a maximum of 3 visits, collectively, to our business referral meetings. Thereafter you would need to apply for membership. On acceptance you will be Welcomed into your Pioneer Group of choice.

Yes, I like the business plan but want to know more, please feel free to chat to our Welcoming Director after our business referral meeting.

Yes, I can see the benefit for my business and want to apply for membership immediately before my opposition does.
Whatever your decision is, it will be respected.
Remember, you may apply for membership immediately or enjoy 3 visits collectively within a 35km radius at any Pioneer Group before making your decision.
Once you have applied and accepted as well as welcomed to the Pioneer Group you will be entitled to all Pioneer Privileges, one of which is having Carte Blanch advertising / branding rights within your respective Pioneer Virtual Business Mall.
Weekly Attendance Fees will be applicable to visitors and members. Breakfast and Coffee / Tea is included for your enjoyment. The attendance fee is Tax decuctable.