GBR4U Pty Ltd
GBR4U - PRO (Public Relations Officer) & Brand Marketing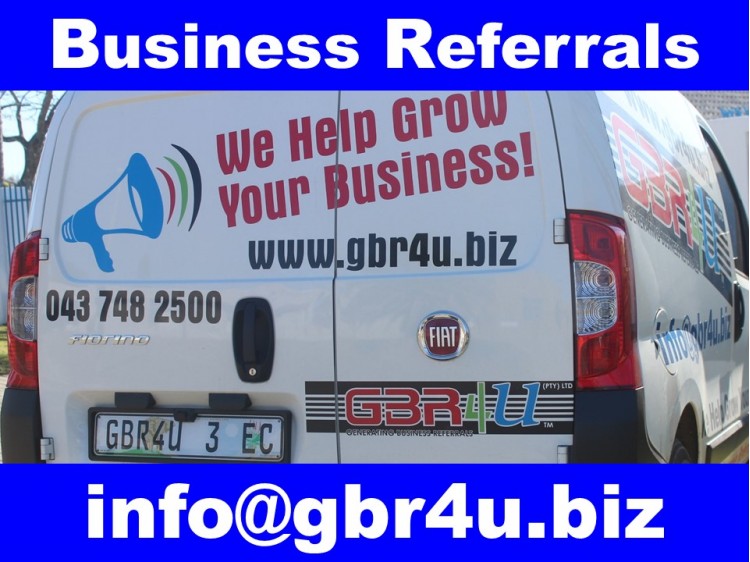 Products and Services Offered
We are a Registered South African Company, with our Head Office in East London, Eastern Cape, South Africa.
We are proud members of the Border Kei Chamber of Business.
Being Locally Based makes us affordable and we believe in "Local Is Lekker!"
GBR4U is an acronym for Generating Business Referrals for You.
About Us
GBR4U is an acronym for Generating Business Referrals for You.
GBR4U (Pty) Ltd is a business referral networking group with our logo being: "We Help GROW Your Business" with Valuable Business Referrals. This also explains our primary aim within the local business market.
We are a proud South African Registered Company - Reg. No. 2013/009752/07. Registered in terms of the Companies Act 71 of 2008 and Companies Amendment Bill 40 of 2010 on 23/01/2013. Being a true South African initiative, established in East London, we believe in "Local is Lekker".
Due to the success of our first Virtual Business Mall, Pioneer 1, a high demand for prospective members led to the growth of subsequent groups Pioneer 2, 3, 4 in East London and Pioneer 5 in Port Elizabeth truly a South African Company based in the Eastern Cape.
Being serious about our local economy and the growth of local business we became members of Border-Kei Chamber of Business. We are extremely proud and honoured to be member.
Word of Mouth Marketing
Pioneers use the age old system of Word of Mouth Marketing to promote fellow members business.
Word of Mouth Advertising is one of the most cost-effective types of advertising a business can have! This is directly due to the fact that People Trust People, making it one of the most Powerful Advertising tools that exists. Get People to talk about you and your business, it's free advertising!
Purpose of GBR4U
Ask yourself, Does your business have people who are willing to talk about you and your business?
People who advertise your business and services are a valuable asset to your business growth. Word of Mouth marketing does exactly this! Fellow Pioneer members talk and advertise your business using the information you share and educate them during your Infomercial moment at our Business Referral get together.
Our core aim is to Grow Your Business with Valuable Business Referrals by introducing you to more Local Business Professionals!