GBR4U Pty Ltd
Business Services; Business Referrals; GBR4U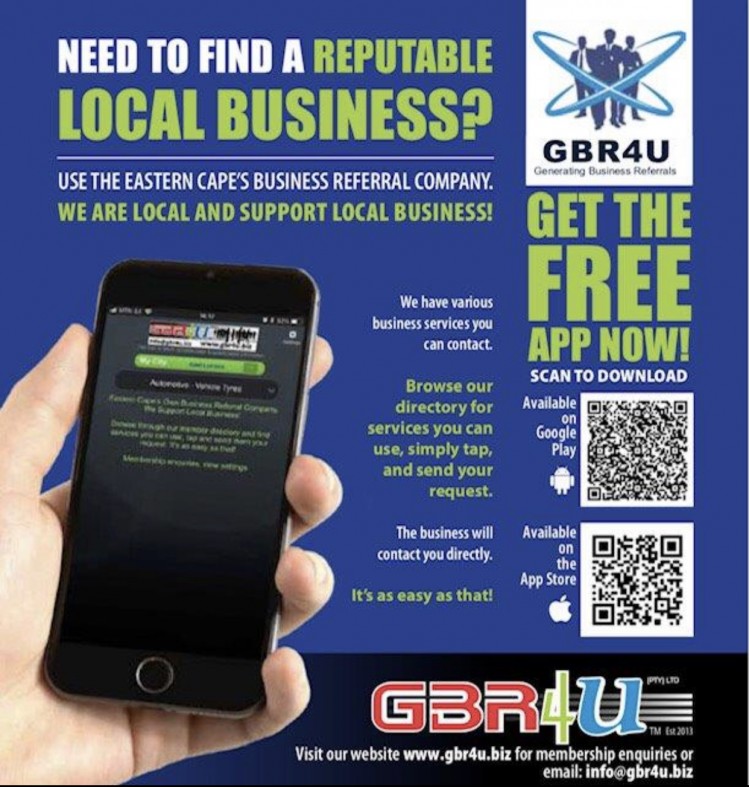 Products and Services Offered
We are in EAST LONDON & PORT ELIZABETH

A Registered South African Company, with our Head Office in East London, Eastern Cape, South Africa. Proud member of Border Kei Chamber of Business and iBayi Small Business Chamber
Being Locally Based makes us affordable and believe in Local Is Lekker!
GBR4U is an acronym for Generating Business Referrals for You.
We are a Business Referral Networking Group with our logo being:
"We Help Grow Your Business" with Valuable Business Referrals.

Need a Service or Products from a member?
Contact them in our Virtual Business Mall or Download our App on IOS or PLAYSTORE and have all our Business Members on your phone!
Do you need Printing done or Blinds fitted at your home or office?
We have members that can assist you!
What about IT services, Voip, Office Automation or a New Website?
Need national/international Courier Services, Electrician, Stationary, Attorney, Plumber, Tax Consultant, Estate Agent, Financial Planner, Vehicle Leasing or even Tyres for your vehicle?
Look no Further, We have them all and more!