About Us
GBR4U is an acronym for Generating Business Referrals for You.
GBR4U (Pty) Ltd is a business referral networking group with our logo being: "We Help GROW Your Business" with Valuable Business Referrals. This also explains our primary aim within the local business market.
We are a proud South African Registered Company - Reg. No. 2013/009752/07. Registered in terms of the Companies Act 71 of 2008 and Companies Amendment Bill 40 of 2010 on 23/01/2013. Being a true South African initiative, established in East London, we believe in "Local is Lekker".
Due to the success of our first Virtual Business Mall, Pioneer 1, a high demand for prospective members led to the growth of subsequent groups Pioneer 2, 3, 4 in East London and Pioneer 5 in Port Elizabeth truly a South African Company based in the Eastern Cape.
Being serious about our local economy and the growth of local business we became members of Border-Kei Chamber of Business. We are extremely proud and honoured to be member.
Word of Mouth Marketing
Pioneers use the age old system of Word of Mouth Marketing to promote fellow members business.
Word of Mouth Advertising is one of the most cost-effective types of advertising a business can have! This is directly due to the fact that People Trust People, making it one of the most Powerful Advertising tools that exists. Get People to talk about you and your business, it's free advertising!
Purpose of GBR4U
Ask yourself, Does your business have people who are willing to talk about you and your business?
People who advertise your business and services are a valuable asset to your business growth. Word of Mouth marketing does exactly this! Fellow Pioneer members talk and advertise your business using the information you share and educate them during your Infomercial moment at our Business Referral get together.
Our core aim is to Grow Your Business with Valuable Business Referrals by introducing you to more Local Business Professionals!
Our Mission
Our Mission is focused on helping our members to cultivate their business through the means of Word-of-Mouth marketing to provide Valuable Business Referrals between members that is full of Passion, Success and Achievement which will result in direct business growth for each member.
Our Philosophy
The Philosophy of GBR4U (Pty) Ltd is built upon the principle of "What You Sow, So Shall You Reap!"
The definition of our Philosophy is to keep our Eyes and Ears open for business and passing Valuable Business Referrals on to our fellow GBR4U Pioneer members thereby receiving Valuable Business Referrals in return. This is supported by the Law of Reciprocation.
Our Primary Business:
Helping You GROW your business with Valuable Business Referrals!
Your Success is Our Success!
Virtual Business Malls:
Each Pioneer Group can be compared to a unique Virtual Business Mall. Browse through our Virtual Business Malls and find the exciting goods and services available to you from our various Pioneer Business Members.
Remember, Only one of each occupation class may be represented in each Pioneer Virtual Business Mall. This gives our members Exclusivity in each Pioneer Group without worrying about competitors.
Please feel free to pop in and visit us, you will be most Welcome! 🌅
Invitation to Attend a GBR4U Business Referral Meeting
Please complete our Quick Contact Form under the "Contact Us" tab to receive an invitation to one of our Pioneer Business Referral Groups. Should you want to attend a specific Pioneer Group, please indicate it in the "Your Message" section, and please include your primary occupation as well. We will shortly be in contact with you to extend an invitation to attend one of our Business Referral meetings.
We will expect you to make an informed decision once you have experienced our non-obligatory business get together on the day as follows:
No, this is not for me.

Yes, I like the business plan but want to visit again before I finally make up my mind. You are most welcome to visit us again. In fact, you may visit any other Pioneer Group within a 35km range as well. You are allowed to have a maximum of 3 visits, collectively, to our business referral meetings. Thereafter you would need to apply for membership. On acceptance you will be Welcomed into your Pioneer Group of choice.

Yes, I like the business plan but want to know more, please feel free to chat to our Welcoming Director after our business referral meeting.

Yes, I can see the benefit for my business and want to apply for membership immediately before my opposition does.
Whatever your decision is, it will be respected. Remember, you may apply for membership immediately or enjoy 3 visits collectively within a 35km radius at any Pioneer Group before making your decision.
Once you have applied and accepted as well as welcomed to the Pioneer Group you will be entitled to all Pioneer Privileges, one of which is having Carte Blanch advertising / branding rights within your respective Pioneer Virtual Business Mall.
Weekly Attendance Fees will be applicable to visitors and members. Breakfast is included for your enjoyment.
Should you be a Guest at one of our Pioneer Business Referral meetings and an existing member is your competition, then we humbly request you not to brand your business. Should this be the case then please do inform the Welcoming Director after the meeting of your interest and we will extend an invitation to one of our other Pioneer Virtual Business Groups where you will not have competition once accepted.
Become Successful with GBR4U (GBR4U is an acronym for: Generating Business Referrals for You)
Apply for membership to GBR4U (Pty) Ltd today and block out your competitor.
Attend Meetings Regularly
Interact with fellow Pioneer Members
Participate and have fun!
Pass Valuable Business referrals to fellow Group members and watch the Law of Reciprocation in action!
Receive a steady flow of business referrals from fellow GBR4U members.
Grow Your Business with 20, 30, 40 or more percent using the "What You Sow, So Shall You Reap" philosophy.
Be introduced to people that need your Services or Product... Every time!
Attendance at one OSPO Orientation is advisable. (OSPO is an acronym for: Our Success Plan Orientation)
OSPO Attendance Benefits Include:
How to improve Credibility within your Pioneer group.
How to get more business referrals and increased your Business Profits!
How and Where to find valuable business referrals.
How to do a Successful Infomercial.
How to conduct a Successful Guest Speaker slot.
And much more!
Community Interaction
See our Gallery for Photos
2013
We Sponsored Greens on the following Golf Days:
Cambridge Rugby Club
Round Table Beacon Bay 130
The Rotary Club of Bonza Bay
2014
We have Sponsored:
St Bernhards Hospice Website on the Show Me East London platform
West Bank Golf Club Spring Classic - walkway from 9th Green to Clubhouse / to 10th T-Box
East London Golf Club The Rotary Club of Bonza Bay Tee Box Sponsor
West Bank Golf Day Christmas Scramble - Teebox Sponsor
We also have Committed to Sponsor a Green or T-Box on the following Golf Days:
Round Table Beacon Bay 130 - This event has been postphoned to early 2015
Our Own Golf Day at West Bank Golf Club:
On the 23 May 2014, GBR4U held a Successful Charity Golf day where all the profits were donated.
The following organisations benefited from our GBR4U Charity Golf Day:
12.5% to SPCA East London
12.5% to SPCA King Williams Town
25% to NSRI East London
25% to Round Table Beacon Bay 130
25% to The Rotary Club of Bonza Bay
We thank all our members for their contribution to a Successfull Charity Day. This was made possible due to the support of their respective clients. We Thank You, East London has benefited!
2015
The Annual GBR4U Charity Golf Day was again hosted by West Bank Golf Club on 20th March 2015.
We are Local and Support Local Organisations.
Our Organisations of choice, as well as percentage split, were:
The Players Choice of Best Tee Box and Green was a closely fought contest between
Niehaus Mc Mahon Attorneys
MFP Office Automation
Designer Gold and Harvey World Travel
Vincent Station Furnitures
But there can only be one winner.... Designer Gold and Harvey World Travel who combined their efforts and won the Best Tee Box / Green floating trophy for 2015. Well Done!
The Winning Coveys for 2015
IDEC - (Non- Member)
Ocean Basket - (GBR4U Member)
Kemco Cleaning Chemicals - (GBR4U Member)
SBB Plumbing. - (GBR4U Member)
Willie du Plessis Financial Services - (GBR4U Member)
Great fun was held and enjoyed by all, we looking forward to our 2016 GBR4U Charity Golf Day!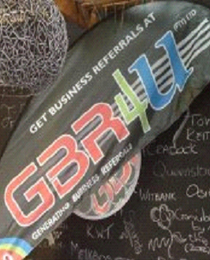 Why Every Week?
Pioneer Virtual Business Mall Owner's meetings are held weekly for the following Reasons:
Get To Know fellow Pioneer Group Members.
Increase your business exposure with other local business owners or decision makers on a regular basis.
You are afforded an opportunity to educate fellow members (Your "Marketing/Sales TEAM") about your business and what type of business referrals you looking for during your Informercial.
Encourages you to maintain regular contact with your "Marketing/Sales TEAM" - After all, Out of sight is Out of mind!
Build the foundation of Trust within your Pioneer Group.
Build the reputation of Credibility within your Pioneer Group.
Relationships built upon a shared culture or goal are Trustworthy.
Pass and Receive Business Referrals to/from your Group Members.
Membership Fees
As in Life, there is unfortunately no free rides. We are however committed to keeping our membership fees cost effective.
There is a once off Registration Fee plus our Affordable Membership Fee for a 12 or 24 month period which may be adjusted to accommodate inflation from time to time.
Each Pioneer Group also has a weekly attendance fee that includes a meal. Attendance fees may differ from Group to Group.