Discovery Financial Adviser
Financial Services - Long Term Insurance; Investments - Retirement, Off shore, Endowment etc.; Medical Aid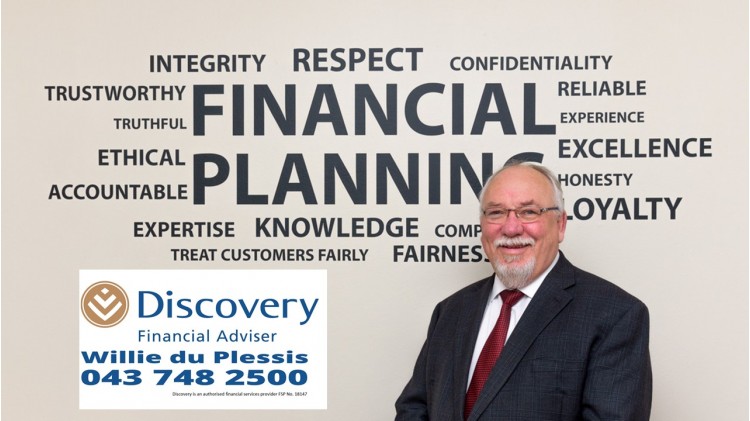 Products and Services Offered
I am a Discovery Financial Adviser and give advice on all Discovery products such as: Life Insurance; Health; Investments; Insurance.
GET UP TO 50% CASH BACK on your Discovery Life insurance policy!
Discovery Life policies can also be drawn up to assist you Financially during your retirement.
Your Integrated Life Cover can convert to Cash Payouts, TAX FREE, every 4 years from age 65 up to age 77 without reducing your death value! T's & C's do apply.
Fuel Is Expensive, qualify for Cash Back On Fuel used, Each Month! Discovery Insure (short term insurance) can refund you up to 50% of your monthly fuel account every month to a maximum of R850 per vehicle insured! You will also have a free tracking system and car hire as part of your car insurance policy!
Contact me for more details with an obligatory free appointment.
Biography
I have a Certificate in Financial Planning NQF 5 and have been a resident of East London since 1970. The Eastern Cape is therefore deeply rooted. I am the Key Individual at Willie du Plessis Financial Services cc.
Willie du Plessis Financial Services cc are contracted to various top insurance companies (Life, Investments, Health as well as Short Term Insurance). We can assist you with most of your Insurance Needs, if not all! From Education and Investments Plans to Life (Including Disability, Income Protection, Severe Illness etc.) and Funeral Plans to Hospital and Medical Aids to Medical Gap Covers!
I am a Member of:
Border Kei Business Chamber
Rotary Club of Bonza Bay
West Bank Golf Club